The Garnhams were a senior farming family in the Itteringham area for about 60 years from 1789. Not freeholders, they leased at various times the Manor House and its dairy farm and Elmerdale farm just across the parish boundary in Irmingland. Richard Garnham first arrived from Martham (north of Great Yarmouth) and was followed as tenant farmer by his sons Robert and Charles. Descendants of Charles in Australia are proud of their family having lived in the Manor House. Charles had married Sarah Pratt, widow of her first cousin John Pratt; and, after Charles's death in 1849, she emigrated to Australia in 1853 with (it seems) all eight of her surviving children by her two husbands. This article provides rather more than is generally known about the backgrounds of the two families but the mystery of what Charles Garnham did for much of his life remains unsolved.
The Garnham family of Martham
Richard Garnham arrived in Itteringham in 1789 to take over the lease of the Manor House farm on the death that year of a Bell cousin of Thomas Robins the owner who had died without children in 1783. Thomas Robins's grandfather had built the house in 1707 - the Robins and Bell families and the story of Manor House and Elmerdale farms are of course described in detail in Good Neighbours . Thomas Robins's heir was his sister Mary, married to the successful and comfortably-off grocer William Creasey of Martham (and later Great Yarmouth). She and William brought Richard Garnham to Itteringham; up to 1789 he was tenant of their small manorial landholding in Martham - a farm of about 120 acres.

Fig. 1 John Garnham of Martham and his immediate family
A gap in the eighteenth-century parish registers prevents us from knowing how long the Garnhams had been in Martham; the name is more common in Suffolk and they were probably recent arrivals in Martham. There is a possible baptism in Diss that might be John Garnham senior. The Martham manorial court books show no sign of the family until the 1770s, suggesting modest early impact on the community. John Garnham was a cooper there, married to Kezia Eldridge (again, a possible Suffolk girl from an IGI reference) and with four sons born in the late 1750s and early 1760s: John, Richard, William and Robert. See the family trees for more details and specific baptism, marriage and burial information. Nothing more is known of sons John and Robert; they were alive when their father added a codicil to his will in 1785 but the court books show them dead by 1802 - the manor was 'gavelkind', meaning that all surviving sons would share the family real estate and these two were not listed after Kezia's death.
Richard married local girl Mary Cubitt and they started having children in Martham in the early 1780s and completed their total of 14 in the years after their move to Itteringham. Not all of the children survived infancy and two daughters died around age 20. Here we will focus on the eldest surviving son, Charles, his brothers Robert and William Henry and their sister Hannah. Hannah married her first cousin Robert, the son of her uncle William Garnham of Martham, a grocer and draper who may well have taken over William Creasey's shop after the Creaseys retired to Great Yarmouth.
William, the shopkeeper, and his wife Susannah Ivory, from Norwich, had fewer children and we are most interested in Robert and Richard, who seem to have farmed on a small scale and worked in the family shop, and their brother John who was a Lieutenant in the Royal Navy and married twice, gaining a house at Buxhall Vale in Suffolk by his first wife. Court book entries show that Susannah had a brother Reverend William Ivory (Vicar/Rector in Waxham, Horsey, Hindolveston and elsewhere) and a spinster sister Rhoda, both of whom at various times lent William's family money secured by a mortgage on their Martham property. It is quite likely that, as grocers and drapers, this part of the family were operating as merchants as well as shopkeepers.

Fig. 2 Family of William Garnham of Martham
Unfortunately and slightly surprisingly, apart from John the cooper, the Garnhams did not seem to believe in making wills and as a result it is difficult to add much texture to the bare facts of parish register entries and farm tenancies. But John's will does tell us that William the shopkeeper had a very bad illness in 1785 which made it impossible to look after his own affairs let alone act as one of his father's executors. From court book entries he seems to have recovered enough to manage his own affairs. At his death in 1829, he was brought from Heigham by Norwich to be buried in Martham where his sons Robert and Richard were then running the shop.
The Garnhams in Itteringham
Richard (the cooper's son) spent many years in Itteringham where, as the tenant farmer of one of the largest farms in the village, he would have been seen as perhaps the most senior resident. Certainly he played his part with many stints as churchwarden and overseer of the parish poor rate - gathering funds and managing expenditure. These sources and the land tax show that he was in Manor House farm from 1789 to about 1823. In the poll book of 1802 Richard 'of Itteringham' shows in Martham as a voter on the basis of land held there, as does his brother William. In fact Richard was just about to convey his share in their parents' modest property (a cottage on the green and about five acres of farmland) to his brother William. Richard's wife Mary died in 1810 and Richard buried two of their daughters in Itteringham eight years later; Jane had been living in Aylsham, probably in service there or perhaps working in a shop. Mary Clementina seems to have died young but the second Mary, probably also Mary Clementina ('Mary C' in the marriage register), in 1827 in Martham, married Benjamin Rising of Martham - more of this shortly.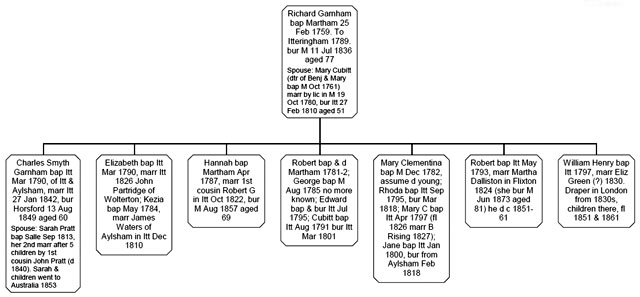 Fig. 3 Children of Richard Garnham of Itteringham and Martham
Then the story gets a little tricky; in 1821 Richard Garnham took a lease of Elmerdale farm. Elmerdale was one of the largest farms on the Walpole family estate in Wolterton, Mannington, Itteringham, Wickmere and other adjacent villages - see Good Neighbours and See You In Court for its history. Perhaps Richard had had a new 21-year lease shortly after the Blickling estate acquired the Manor House at the beginning of the century and, in anticipation of its ending, he took a lease of Elmerdale when it came free, thus having a short overlap in both farms. Substantial work was done to Elmerdale farmhouse in the early-ish years of the century (not precisely dated even by experts) - a brick facade added to its timber-framed main range and large windows put in facing the road - possibly an upgrade for Richard Garnham who was used to the fine house in the village centre.
It is not clear whether this was Richard moving up to the larger farm there or whether he stayed in the Manor House and his son took Elmerdale. It seems most likely that it was a gradual move in by the father as in 1825 Richard was in Elmerdale and James Plane had moved into the Manor House and its farm. An estate accounts book entry of 1831 shows Richard Garnham still in Elmerdale but by the trade directory of 1836, and in the estate accounts of 1840 and 1842, his younger son Robert has taken over the farm. Robert had farmed at various places and had married Martha Dalliston in Flixton in 1824, when he was living in Poringland (she was a Suffolk girl from St Cross, presumably in South Elmham). They spent a number of years at Elmerdale and baptised two daughters in the Oulton independent meeting house, just a short walk up the road; Martha's family were dissidents perhaps, as there are no other signs of the Garnhams being particularly low church. These baptisms, Elizabeth Mary in 1826 and Jane Martha in 1827, show that Robert was in Elmerdale at the same time as his father. Jane Martha was buried in Itteringham in 1834 (churchyard survey D015 for details of the now hard to read gravestone) but Elizabeth survived to marry Charles Purdy of Martham where they ran a grocery and drapery business in the 1850s and 1860s.This may well have been the shop of their Garnham of Martham cousins.
Richard clearly retired from farming and moved back to Martham where he was buried in July 1836, aged 77. His son Robert was still in Elmerdale in 1851 but had gone by the time of the trade directory of 1854; perhaps he had moved to another farm somewhere in Norfolk not thus far identified, or maybe he had died - his widow Martha was living with her daughter Elizabeth Purdy in Martham in 1861. Most of the main players in the Garnham family were buried in Martham, with Martha Dalliston/Garnham surviving the longest until 1873. Richard's youngest son William Henry, born in Itteringham, can be found in Martham in fleeting references in the 1830s but even by then he had moved to London where census returns show he ran a drapery shop in Red Lion Square, baptised most of his children in St Andrew's Holborn (plus one in Martham and one in St Giles in the Fields) and later retired to Islington. Along the way William Henry and his wife Elizabeth (probably Green married in Potter Heigham in 1830) acquired the old Creasey estate of Moregrove and Knightsley by the 1835 will of Benjamin Rising a farmer of Martham. The Risings of Martham and West Somerton were closely connected to the Creasey family as executors of William and Mary's wills in 1797 and 1798 and Benjamin had acquired the small manor from William Creasey Ewing one of the Creasey's grandsons. Three times married, Benjamin's last wife was Mary C Garnham, William Henry Garnham's sister (although Rising's will oddly refers to WHG's wife as his 'niece'). Rising made William Henry and Elizabeth his main heirs. William Henry later sold all his Garnham property in Martham, for £10,900, to Reverend George Pearse in 1853 - he was not interested in a farming or country life.
Meanwhile, in the other branch of the Garnham clan, William the shopkeeper had two of his sons involved in the shop. His son Richard had done well as both shopkeeper and farmer and spent many years in Martham before retiring to Great Bealings in Suffolk. Richard's brother Robert, who had married Hannah of Itteringham and outlived her, ended his days in Martham as a seed merchant and Norwich Equitable insurance agent. A George Garnham, born in Martham about 1827 and probably of the shopkeeper side of the clan, was admitted to the Royal College of Surgeons in 1850 and was in general practice in Ripley Derbyshire in 1881; whose son he was is uncertain.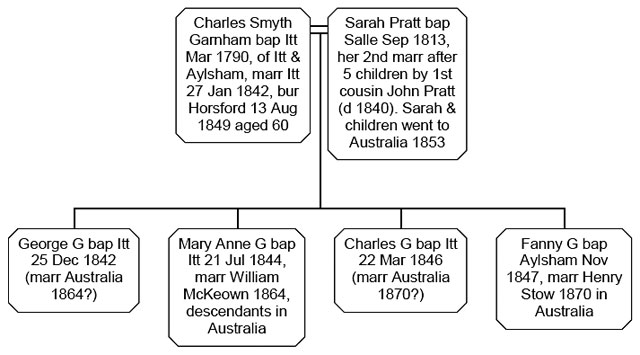 Fig. 4 Charles Garnham's family
So far we have had nothing to say about Richard's eldest son Charles Smyth Garnham. (The Smyth spelling is persistent and it is unclear where this middle name came from.) There is no sign of him in Itteringham (or Martham) until the census of 1841 when he shows as farm bailiff (manager) for the widowed Sarah Pratt living with her and her children and servants in the Manor House. He may well have lived initially in the rear range of the house. In January 1842 they married, he for the first time and 20 years her senior, and he became head of household in the house where he was born and brought up. He was clearly capable of farming these lands, so why did he as elder brother not take over the Elmerdale lease which Robert had when Richard retired? It is hard not to believe that Charles had had a 'career' elsewhere for the first 50 years of his life; and, with a first cousin in the Navy, perhaps he was a sailor or a merchant. Was he awash with stories of far-off lands and merchanting opportunities overseas?
The Pratt family of Horsford and Itteringham
Who was Sarah Pratt? She and her first cousin husband John Pratt came from a tenant farming clan in Horsford (a few miles north of Norwich) whose members also farmed in nearby Felthorpe, Salle (where she was born in 1813) and Hackford by Reepham. The Pratt family tree has been rather easier to put together as this family did tend to write wills and many of the family births, marriages and burials were in Horsford. Before arriving in the Horsford and Horsham St Faith area, probably in the early 1760s, this was a West Norfolk family with its base in Little Cressingham by the 1720s if not earlier. John Pratt married Anne Gateley, as shown in the will of their eldest son. John and Richard's baptisms are in the Little Cressingham register but a gap of 10 years or so immediately after 1732 means that we have no record of their siblings' baptisms; for their relationship we are reliant on Jeremiah's will (one of his executors was a Crowe) and that of James Crowe (one of whose executors was brother-in-law Jeremiah). By the early 1740s John and Anne were 'of Great Cressingham' (no baptisms there though) in her uncle Cuthbert's will. Cuthbert Gateley was a yeoman of Crimplesham but there is no sign of Anne's marriage there; nor in Ashill where her brother Richard left a will in 1774. The epicentre of the rather scarce Gatel(e)y surname was previously in Grimston and our family may well have come from that parish (unfortunately the registers cannot be accessed without the explicit approval of the current incumbent, which we have not sought). Other Pratt families in Weasenham, Saham Toney and elsewhere have been explored but do not fit the available facts. By the 1740s a Jeremiah Pratt was baptising children in Little Cressingham, the son of John Pratt of Saham Toney who left a will in 1753. No doubt this line of the Pratts, who stayed for generations in Little Cressingham, was closely related to our John Pratt and presumably Jeremiah (perhaps a first cousin?) was godfather to John and Anne's Jeremiah.
Richard Gateley was almost certainly godfather to our Richard Pratt; he left Richard all his best clothing, various silver items and £100, with further silverware going to Richard's wife Frances, £25 each to their five eldest children and his silver watch to the eldest son. Richard Pratt married Frances Hall in Cockley Cley (near Swaffham and the Cressinghams) in 1757, when they were both single and of that parish. The witnesses were John Pratt senior and John Hall (probably her father). John Pratt signed with his mark, a feature of various marks on documents even by his grandson Christmas. It is fairly clear that members of this family were sparsely educated yeoman farmers who initially owned no land (neither freehold nor copyhold has been found for any of them until the 1790s) and yet were capable farmers who gradually worked their way up to bigger and better leased farms, particularly after their arrival in Horsford.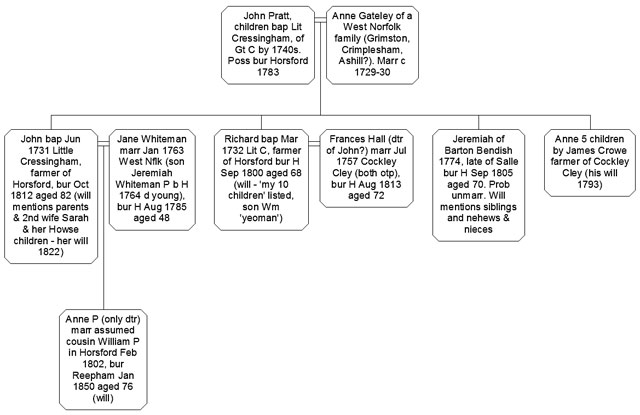 Fig. 5 Possible family of John Pratt
John junior and Richard seem both to have moved to Horsford around 1760 (their brother Jeremiah was in Barton Bendish in 1774 and presumably came to Salle later in life). Their parents may well have come to Horsford with them and the burial of a John Pratt there in 1783 was almost certainly their father (who apparently died intestate). Their mother Anne Pratt widow was involved in Horsford property transactions in the manorial court books in the 1790s. John and Jane's son Jeremiah was baptised there in 1764 (he must have died young) and Richard's daughter Anne was a Horsford baptism in 1761. John and Jane's only surviving child Anne Pratt (her baptism has not been found in the very gappy parish register/Archdeacon's Transcripts) married her first cousin, Richard's son William. William, apparently the most successful farmer of the family (although it seems still a tenant farmer not an owner of free or copyhold land of any substance), ended up in Felthorpe and left decent legacies to all his children in his will proved in 1836. William and Anne had a number of children, mostly baptised in Salle; amongst them our Sarah of Horsford, Itteringham, Aylsham and Australia.