Village Functions
---
Various functions take place during the course of a year,
usually in aid of the shop, community centre or church.
Some of the photographs will be posted on this page.


Fireworks Parties - more photos
Photos by Jonathan Neville
The money raised went to Iteringham Community Shop Association
| | |
| --- | --- |
| | |
| Fire in the heavens | Fire on the ground |
---
| | |
| --- | --- |
| | |
| The Skinnerettes | The Skinnerettes |
| | |
| --- | --- |
| | |
| Hazel & Norman Barnes | Keith Loades in full flow |
---
Bonfire Party - 6th November 2005
The money raised went to the Community Shop
Harvest Supper - 14th October 2005
Photos by Ivan Thompson
The money raised went to St Mary's Church and the Bure Valley Community Centre
Geoffrey Foot our Starter for 116 people
(Come ye thankful people come)

Charles Skinner our MC
| | | |
| --- | --- | --- |
| | | |
| The Skinner dinner girls who did us proud with the food | | Mel and Vicky tending the bar |
Megan Fowell

who has been involved for many years and organised the ticket sales

The Entertainers
---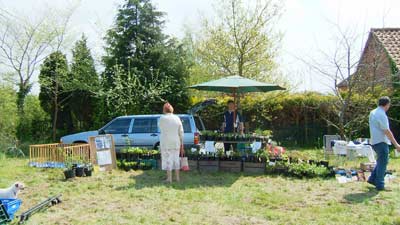 Stephen Hagon's plant stall
---
Fireworks Party - 7th November 2004
---
Halloween Party - 30th October 2004
---
Open Gardens Day Sunday - 27th June 2004
---
May Fayre Scarecrow Competition - 3rd May 2004
---
Impromptu bonfire party - 9th November 2003
| | |
| --- | --- |
| | |
| Terry Grand lighting the fire | |
---
Sitting with scone and jam
In village hall at Itteringham,
Open gardens there to view,
Along with flowers' glorious hue.

Ancient church with festive fare,
Adorned with fruit and flowers there
And organ played by one thus able,
Accompaniment to sacred table.

Pause in peace a little while,
Let thoughts becalm and church beguile,
Sit quietly in this place of rest,
Look round at produce, at its best.

Red brick homes with fruitful trees,
On grass, the apples dropped in breeze,
Now feed the creatures that do come,
To also sup on pear and plum.

We walk along the "crispy" grass
And peep at water as we pass,
Exchanging comments on the way
And mention too the splendid day.

Alice Berry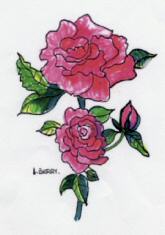 ---
Barbecue lunch chéz Charles & Diana Skinner - 20th June 2002
Barbecue lunch in Charles & Diana Skinner's garden 20th June 2002
On Sunday 20th June 2002 Charles & Diana Skinner along with their family, neighbours and friends organised a magnificent barbecue lunch in their garden, followed by a charity duck race.
Waiting for the duck race to begin

Start of the race
---
Jubilee celebrations - 4th June 2002
During the afternoon various races were organised for the village children, a Jubilee Mug was presented to youngsters, then a commemorative tree was planted, followed by a barbecue supper. The afternoon was funded by the parish council.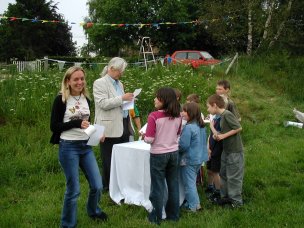 Lord Robin Walpole presenting a Jubilee Mug to everyone in the parish under 16 years old.
Lord Robin Walpole planting a commemorative yew tree, which was then blessed by the vicar David Hares.
Charles Skinner, Julia Thompson, Helen Hares and Molly Fowell serving the barbecue supper, with Jimmy Fowell serving the ice creams.
If you have any memories, anecdotes or photos please let us know and we may be able to use them to update the site. By all means telephone 07836 675369 or
| | |
| --- | --- |
| | Copyright © Jonathan Neville 2005 |